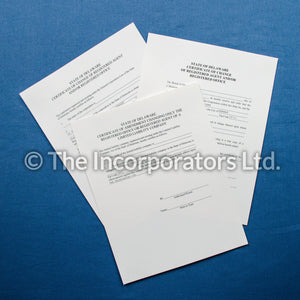 Change Your Registered Agent
Regular price $50.00 Sale
Thinking of changing your Registered Agent to The Incorporators Ltd? We are happy to have you! You're in good company. Your registered agent fee is free the first year and $99 per year thereafter. 
Looking to form an entity and use The Incorporators Ltd. as your registered agent? Start a new entity here.
In order to complete your change of agent, you'll need to fill out a simple one-page form. You may also choose to proceed without filling out the form and we will email it to you upon completion of your purchase.
If you'd like to complete the form now, please fill out the form that corresponds to your entity type and attach it below. Electronic signatures (typed) are accepted.
Corporation Change of Agent Form