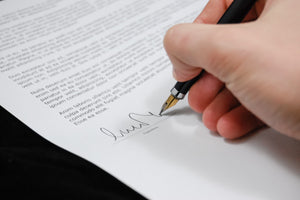 Plain Copy of Certificate of Incorporation/Formation
Regular price $89.00 Sale
Easily order a plain copy of your Delaware Certificate (Articles) of Incorporation/Formation online by filling out a simple order form.
Turnaround time for a plain copy of the Certificate (Articles) of Incorporation/Formation is same day, generally within hours, during normal business hours (M-F; 9:00am to 5:00pm EST).  If ordered after hours, the document will be delivered the next business day. 
If there have been changes made since it was originally filed, those changes will not be reflected in the document you receive. Any type of filing made that changes the entity, including a name change, amount of stock, etc. is considered a separate filing. The original filing will always be the same regardless of additional filings.
If the document is more than one page, additional page fees may apply. For more information about what is include in the Articles, please reference this blog post. To order a certified copy, click here.